A Brief introduction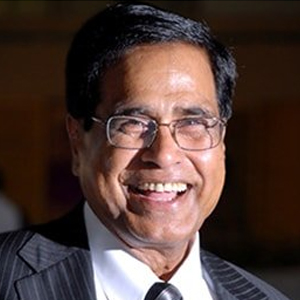 The lives of great achievers have one thing in common. When challenged by obstacles that seem insurmountable, they refuse to kneel and accept the ordinary. They dream to achieve things that most would never dare to. Dr. Nalla G Palaniswami, Chairman, KMCH group and NGP Educational institutions, is one such achiever.
One need not be born with a silver spoon to achieve greatness. From a modest beginning in a remote village, Nallampatti in Erode District, he has risen above the shackles of an ordinary life, to create an eminent health care institution.
An ambitious young man, his performance in the SSLC Exams got him a seat at the prestigious Stanley Medical College, Chennai, where he did his MBBS and MD. He completed his specialization in internal medicine at Cincinnati, Ohio, and later received his fellowship in Endocrinology from Wayne State University, Detroit, Michigan, USA.
His exposure to the pinnacle of advancements in medical care created a burning desire in him to provide the same to his people in India. This rare spark of entrepreneurship convinced him to return to India to set up a super speciality hospital. Sam Walton, the founder of Wal-Mart-Stores Inc, said "Capital isn't scarce; vision is". A leader of men, he motivated a host of Non Resident Indians to join him in his grand vision to provide the best in health care in Tamilnadu. Kovai Medical Center and Hospital (KMCH), India's second corporate super speciality hospital, become a reality in the pre-liberalization era in 1990.
KMCH has been consistently setting bench marks in health care delivery. A network of Satellite medical centers was soon established at Erode and Perundurai. A firm believer in the benefits of Technology, he has been responsible for KMCH introducing several state of the art diagnostic and surgical procedures in the region. If today Coimbatore is fast emerging as a preferred medical destination, the seeds were sown two decades back by Nalla G Palaniswami's vision. His sharp professional acumen led him to diversify into various fields such as Information Technology and Hospital equipments supplies, all of which have been extremely successful.
His strong conviction that education can transform society led to the establishment of the Kovai Medical Centre Research and Educational Trust. The trust has established NGP Educational institutions which have carved a niche for themselves within a short period. Over 5000 students pass out the portals of these institutions every year, empowered to face the world. He has thus been an institution builder par excellence.
"Success is not about winning, it's also about being compassionate, for it is essential to keep the human engine running", said Swami Vivekananda. The spirit of compassion runs strong in his veins. He has been instrumental in providing health care to rural people through various community centers and scholarship to deserving students and sportsmen. He has continuously helped the school where he studied by creating new infrastructure and facilities. As a committed Rotarian of Rotary Coimbatore Central, he has been undertaking various health care projects including the gift of life program, which have helped save many lives. Cancer awareness is the need of the hour. KMCH and Rotary Central has taken major step to screen woman cancer. Over 1.5 lakh woman will be screened in and around Coimbatore. He has also significantly contributed to the efforts of the Rotary foundation by becoming a major donor. The annual KMCH Mini Marathon has helped to bring about a new fitness culture among the youth.
In spite of his multi-faceted achievements, Dr. Nalla G Palaniswami remains remarkably simple and is easily accessible to people at all levels.