Maj Gen (Dr) R Ravikumar (Retd) MD(Rad), PDF(IR), AVSM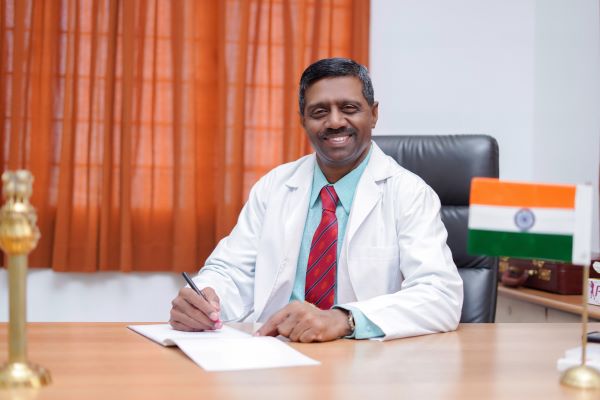 Major General Dr.R.Ravikumar, AVSM (Retd) is a distinguished Senior Consultant in Radiodiagnosis & Interventional Radiology.
The General is an alumnus of Government Kilpauk Medical College, Chennai (MBBS), a Post graduate (MD Radiodiagnosis) from AFMC, Pune and a Post Doctoral Fellow in Interventional Radiology from KMCH, Coimbatore.
The General had superannuated on 31 May 2022 after 37 glorious years in the Armed Forces Medical Service with more than 25 years in Radiology.
The General has had a checkered career holding both professional and administrative coveted appointments. On the professional side he has served as Interventional Radiologist (IR) at Army Institute of Cardiac Sciences-Pune, Senior Advisor (Rad & IR) at Naval Hospital Asvini- Mumbai, Professor and Head (Rad) –Army Hospital (Research & Referral)- New Delhi, Professor and Head (Rad) at Armed Forces Medical College-Pune & Consultant (Rad) at Command Hospital (Eastern Command). On the administrative side he has commanded a multispeciality Military hospital at Bhopal and later held the important appointment of Addl Director General Medical Service (Health & Professional Services) at Integrated HQ of Min of Defence (Army) during the first and second wave of Covid Pandemic. The General lastly tenated the appointment of Major General (Medical), Southern Army Command & Affiliated Professor (Rad) at AFMC prior to superannuation.
He has enormous experience in academic training and guiding of many PGs and Post doctoral fellows in IR. He has raised several diagnostic imaging centres and also established an ART centre during his long military career.
He has numerous publications, oral presentations and is a peer reviewer/referee of many journals.
He was the Past Vice President of the Indian Society of Vascular and Interventional Radiologists and Executive Council member of Indian Radiological and Imaging Association.
He is presently an expert committee member in Interventional Radiology at National Board of Examinations, New Delhi.
Awards , Honours & Visits
Awarded GOC-in–C Commendation (Western Command) for professional excellence-2012.
Visiting Professor (Rad) to Dept of Radiology, USUHS/AMEDD -Walter Reed National Memorial Medical Centre, Bethesda, Maryland, United States-2016.
Distinguished Alumni Award in field of IR by KMCH,Coimbatore-2019
Awarded Athi Vishista Seva Medal (AVSM) by the Hon'ble President of India on 26 Jan 2022 for Distinguished Service of an exceptional order in Public health management of the Indian Army.
Contact Information
Maj Gen (Dr) R Ravikumar (Retd)
MD(Rad), PDF(IR), AVSM
Dean
KMCH Institute of Health Sciences and Research,
99 Avinashi Road,
Coimbatore 641014.
E : dean@kmchihsr.edu.in
T : +91 422 6806840