Dr. K. Prakasam MS (General Surgery)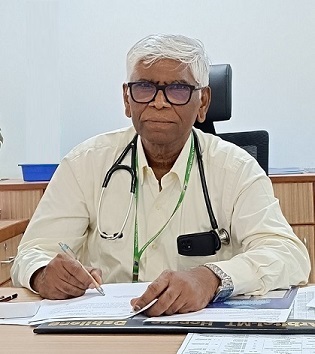 Dr. Prakasam, an eminent surgeon joined the institute in his present capacity since April 2018.
He completed his MBBS and MS from Madras Medical College. He served the Tamil Nadu Medical Services for 21 years. He has 15 Years of Teaching experience and 10 years of Administrative experience in various Government and private Medical Colleges.
He has a wide ranging experience in patient care. He has worked as faculty member in Karuna Medical College, Palakkad and as Professor and HOD of Surgery in Karpagam Faculty of Medical Science and Research, Coimbatore.
He ensures quality in hospital services. He has proven himself in managing multiple responsibilities with aplomb. He has excellent interpersonal skills and maintains good rapport with all healthcare personnel.
Contact Information
Dr. K. Prakasam MS (General Surgery)
Medical Superintendent
KMCH Institute of Health Sciences and Research,
99 Avinashi Road,
Coimbatore 641014.
E : drprakasam@kmchihsr.edu.in
T : 0422 6806180